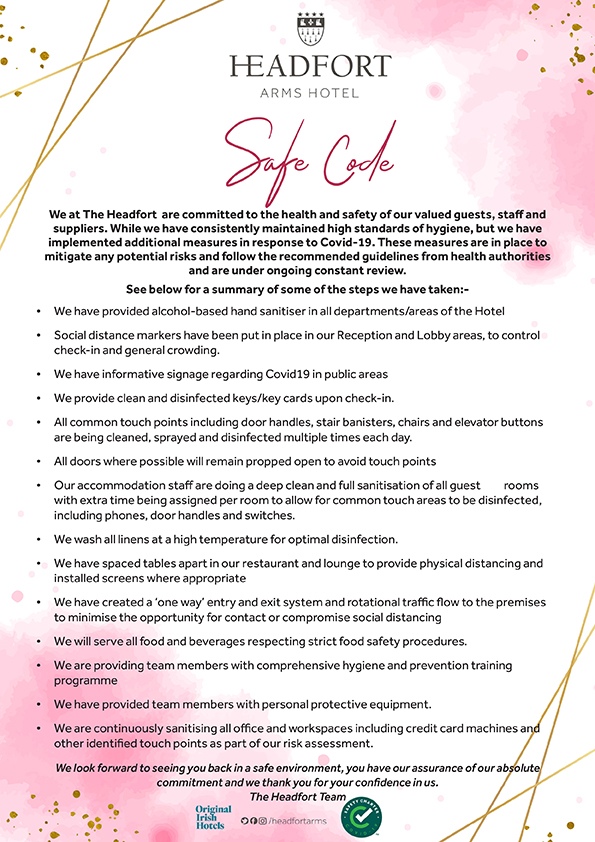 Dear Customer,
We are delighted to announce that, in line with the revised government guidelines, we are now re-opening on Monday, June 29th and look forward to welcoming you back to The Headfort. Again, we want to take this opportunity to thank you for your patience and overwhelming support.
We at The Headfort are committed to the health and safety of our valued guests, staff and suppliers. While we have consistently maintained high standards of hygiene, we have implemented additional measures in response to Covid-19. These measures are in place to mitigate any potential risks and follow the recommended guidelines from health authorities and are under ongoing review.
Please see below for a summary of some of the steps we have taken:
We have provided alcohol-based hand sanitiser in all departments/areas of the Hotel;
Social distance markers have been put in place in our Reception and Lobby areas, to control check-in and general crowding;
We have informative posters regarding Covid19 in public areas;
We provide clean and disinfected keys/key cards upon check-in;
All common touch-points including door handles, stair bannisters, chairs and elevator buttons are being cleaned, sprayed and disinfected multiple times each day;
All doors where possible will remain propped open to avoid touch-points;
Our accommodation staff are doing a deep clean and full sanitisation of all guest rooms with extra time being assigned per room to allow for common touch areas to be disinfected, including phones, door handles and switches;
We wash all linens at a high temperature for optimal disinfection;
We have spaced tables apart in our restaurant and lounge to provide physical distancing and installed screens where appropriate;
We have created a 'one-way' entry and exit system and rotational traffic flow to the premises to minimise the opportunity for contact or compromise social distancing;
We will serve all food and beverages respecting strict food safety procedures;
Limiting guest's capacity and types of treatment in our Headfort Spa rooms to ensure social distancing;
Disinfection of all Spa treatment equipment and use of PPE during treatments;
We are providing team members with a comprehensive hygiene and prevention training program;
We will administer temperature checks for team members at the start of their shift;
We have provided team members with personal protective equipment;
We are continuously sanitising all office and workspaces including credit card machines.
Whilst we hope that your travel arrangements will not be disrupted as a result of the Covid-19 virus, we are offering flexible cancellation terms and are happy to answer any cancellation or postponement queries you may have.
For further information, please contact us on 046 9240063 during the hours of 10am - 6pm to enquire about your 'Welcome Back' package and the opportunities to discover the beautiful Boyne Valley on your next stay.
You're in safe hands with us, we are really looking forward to seeing you in Kells...
And to make sure this happens sooner rather than later here is a gift from us... For your first return stay with us here is a discount code to offer you 10% discount 'WELCOME 20'!