COME TO CELEBRATE YOUR SPECIAL DAY AT
THE HEADFORT ARMS HOTEL & GARDENS
The Duff family have been looking after a couples Special Day for generations. It is the assurance of that personal touch and consistency of prime Irish cooking that has made so many families choose the Headfort for the most important day of a lifetime.
Weddings for those living abroad
Whether Irish diaspora or you just have a special connection to Ireland in your soul, thanks to technology and our great team, we can arrange it all remotely for you! We will guide you with suppliers, timelines and ideas to ensure that you have the day (or week!) of your dreams.
See below a review from one such couple living in Canada!
From the early days of planning our wedding, it was clear that the Headfort team was in a league of its own - they took such great care of us to ensure the process was as stress-free and enjoyable as possible. Not an easy feat considering we were planning abroad during covid. Our amazing Wedding Coordinator, Megan, went above and beyond to ensure every detail was in order when the big day arrived. The venue looked spectacular, and the entire Headfort team was nothing but class. We can't begin to thank the Headfort team enough for making our special day so memorable and perfect!
BY KEVIN & MAISIE QUIGLEY 2ND OF JULY 2022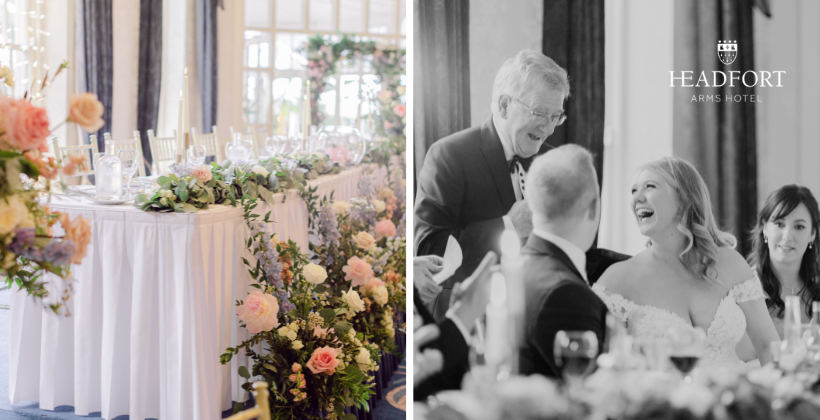 ---
---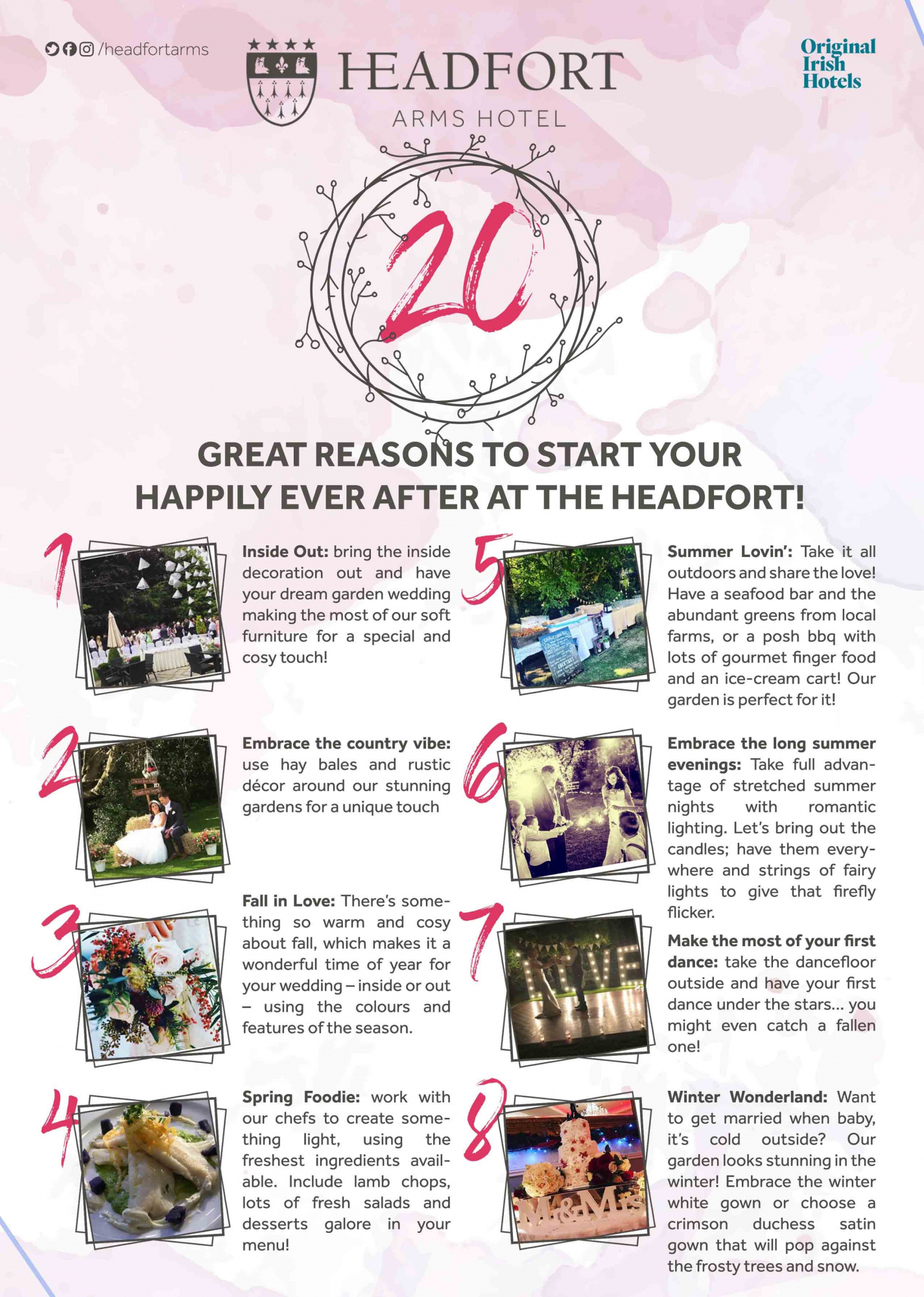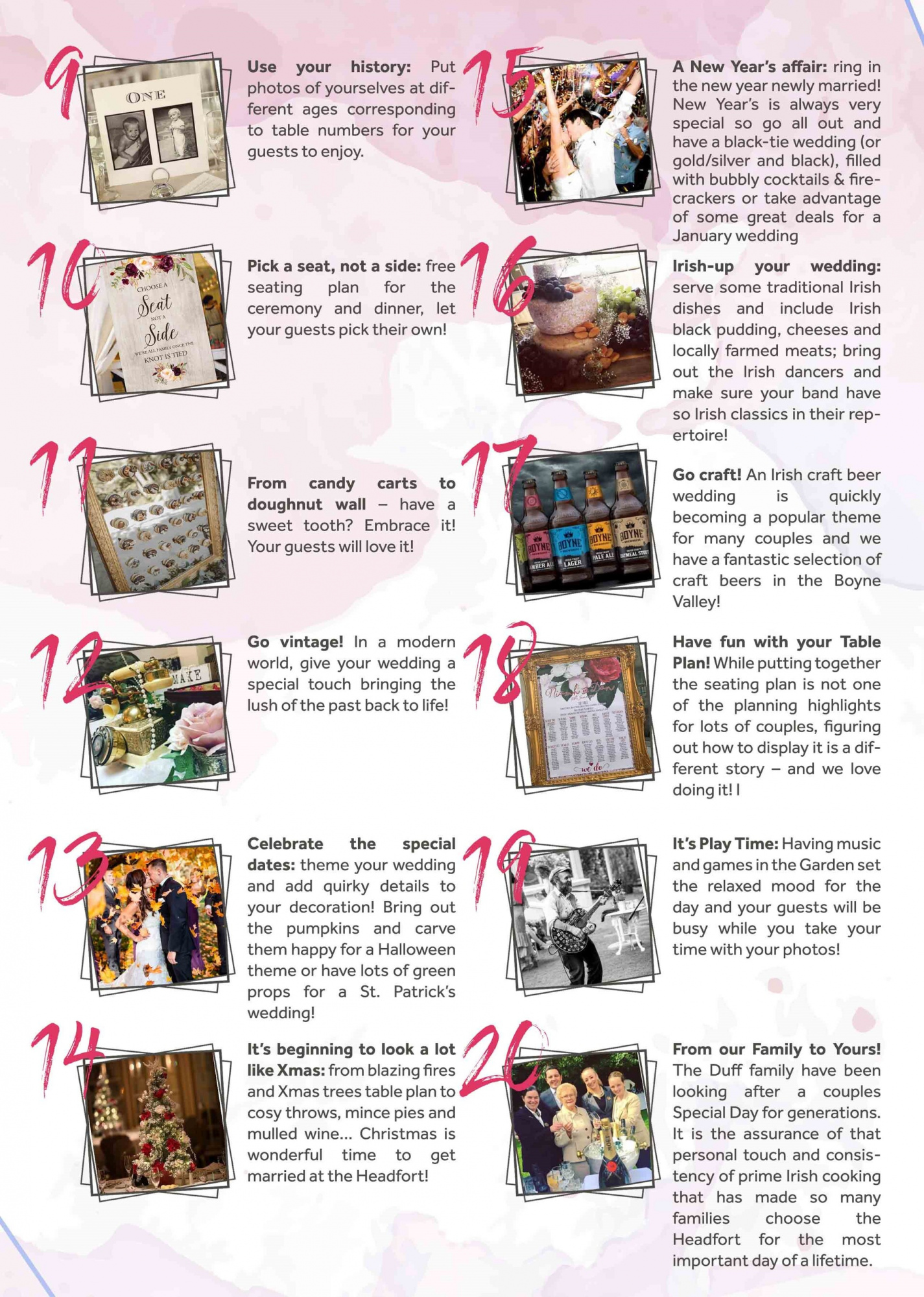 Download our Wedding Brochure
Wedding Facilities at The Headfort Arms Hotel
The Kenlis Suite was purposely built and recently renovated to accommodate the Perfect Wedding Day.
With its own private entrance and beautiful gardens to the rear, we only ever promise ONE wedding per day.
Our Promise
Family Run Heritage Setting
One On One Wedding Planning
Locally Supplied Menus
Beautiful Gardens For Ceremonies
Bespoke

Accommodation

& SPA
Wonderful All-Inclusive Packages
Read More
ENJOY OUR PACKAGES AND LET YOUR HAPPILY EVER AFTER START AT THE HEADFORT!
On the day everything was exactly how we imagined it would be
We booked our wedding for May 14th 2022, as soon as we booked it and started planning it we knew we picked the perfect venue.. Megan our wedding coordinator was always there to help and advise us along the way, nothing was ever a problem, Megan went above and beyond to help make our day perfect. On the day everything was exactly how we imagined it would be, the food was amazing and the staff were so friendly. Our guests talked about how great everything was on the day. Thanks to all the team at Headfort Arms for making our wedding day amazing.
ALISON & RAYMOND
A HUGE thank you for making our wedding day just the most perfect day.
A HUGE thank you for making our wedding day just the most perfect day. Never in our wildest dreams could we have imagined just how wonderful it was. I don't know where to start with our thanks really as we are completely blown away. Our guests cannot stop saying how perfect the venue was too. The Food was amazing. The organization and communication were fantastic from day one, I knew after the first date change and how easily and swiftly that was sorted that we were in really safe hands with you. The kindness you showed when we had last minute changes was so appreciated. Thank you so much for opening up your space to us and our guests, it's absolutely stunning and I hope we didn't disturb you at any point….there was some crazy dance moves and silly stuff. I could write pages and pages about how absolutely brilliant you are there but we will be eternally grateful to you for making our day perfect, we will be talking about it for a long time to come. Thank you, Megan and all your staff for making our Day truly Special. THANKYOU THANKYOU THANKYOU
STACEY & STEPHEN
I would highly recommend the Headfort arms
We got married here on the 30th December 2021 and the staff where all absolutely amazing. Edel was brilliant, even though she was off during this time, she checked in with me regularly to ensure everything was ok and helped me along during all my planning stages. Then there was our wedding planner Megan! Megan was my side kick and helped me with everything from start to finish, she was just incredible and went above and beyond for us. Getting married during covid was not easy, first we had to cut our numbers a few days before and then we had a lot of people that couldn't attend our big day including some of our suppliers. When we came out of our ceremony we where told our band had also just cancelled on us but before we even had time to panic Megan and the team had already organised another band which were absolutely amazing!! I cannot thank Megan enough for all she did for us, everything we needed or wanted was never a problem. She is a credit to the Headfort. The staff were so helpful and so friendly not just to us but to all of our guests on the day aswell. I would highly recommend the headfort arms and thank you so much to Megan and all the team for making our day so special.
Johnny & Sinead
Our day from start to finish was truly magical
We could not have picked a better venue to have our wedding. Megan and her team were just amazing, they made the whole process of planning a wedding so simple and enjoyable and went above and beyond for us, they had the garden where we had our ceremony and the function room looking absolutely stunning their attention to detail was truly amazing. We had a small family wedding of 25 people but the atmosphere and the fun we had made it feel as if there were hundreds there. The food was outstanding and the drinks were flowing for the night, everybody was so relaxed and so well looked after. I cannot recommend the Headfort enough. Thank you so much for making our day just perfect. Thanks again for everything we had the best day
Anita & Jason
Gave us our dream wedding in such difficult times
We had our Wedding in the headfort Arms on the 1st of October 2021. From the moment we arrived , we were so well looked after. Gemma was our wedding coordinator and was so helpful in the run up to the wedding, with all the changes with restrictions and guests' numbers, she was so helpful and made the whole process stress free with her support. The actual wedding day was perfect Gemma and the rest of the staff were on call all day to help us out from delivering champagne to calming our nerves! The set up was wonderful, the food was amazing and it all went down very well with all our guests. I would highly recommend the Headfort Arms for weddings . They really facilitated and gave us our dream wedding in such difficult times.
Claire and David
What a weekend it was!
''Where do I begin... well my husband and I travelled from London and got married in my granny's church in Cavan and had our wedding reception in the Headfort Arms Hotel and what a weekend it was! We could not fault a single thing. Not only did the staff make us feel at ease, but they treated us like family. I cannot put into words how much respect we have for Olivia, Joanne, Edel and Caroline. As a team, they make everything perfect. Our guests said it was the best wedding they had ever been to and they thought the location was absolutely spot on. We count the lucky stars we had Olivia and Joanne look after us! I am so gutted it is all over and wish I could turn back time and do it all again! The Headfort Arms will forever hold a special place in our hearts and no doubt we will be back every year to reminisce! Thank you all so much for making our day the best day ever.''
BY MARIANNA & PADIAN 25TH MAY 2019
From the moment we had the chat about organising our wedding till the wedding day...
Both myself and Kenneth want to say how amazing you are at your job. From the moment we had the chat about organising our wedding till the wedding day. You put your heart and soul into making sure our day was amazing and you passed with flying colours, and Natalie on reception making sure all our guests had a room she is also amazing. The ceremony set up of the wedding was absolutely fantastic, service from the waitress and bar staff were top class. Still can't believe we are nearly 3 months married. We would 100% get married again in the Headfort with the same wedding coordinator and staff we cannot fault any of it. Megan, you are such a credit to the Headfort team and we defiantly will call in for lunch to have the chats with you, because of you we had the best wedding ever. From the best wedding ever in the Headfort
Graham and Kenneth
Our Special day
"We got married in Headfort Arms this month and we want to say a big thank you to Laura, Jo and all the staff. They were all amazing. It was such a pleasure dealing with the staff from the booking our day right up to the day of the wedding. They couldn't have done anything more for us. We had 190 guests at the wedding and everyone of our guest were so impressed with the venue, amazing food and excellent service from the staff. The staff are so accommodating, hard working giving excellent service.We highly recommend Headfort Arms as a wedding venue. We can't wait to come back to stay again".
Devena, September 2018
The best decision we made
"Held our wedding at the Headfort which was one of the best decisions we made was picking this venue. Laura and Edel made every part of the planning process stress free which really helped when we were trying to organise from overseas. We were very lucky to have good weather on the day meaning we had the pleasure of arriving to the garden entrance and honestly the garden was decorated amazingly and offered brilliant facilities, lots of tables and chairs out, toilets, bar so there was no need for anyone to go inside, just sit in the sun and enjoy themselves. It is such a welcoming hotel every member of staff was just so genuinely friendly and helpful. Our guests were really blowing away by the venue especially the gardens, the food and the friendly atmosphere. It's an absolute credit to the management to have such a fantastic team".
Laura and Peter, July 2018
Amazing wedding venue
Where to start… I went to the wedding fair in the Headfort Arms and straight away I wanted my reception here. I was amazed by the ballroom, the fab Garden and the rooms were all so beautiful (The bridal suit was amazing!) I was lucky to have Jo the hotel wedding planner; she helped me so much especially the week of the wedding and on the wedding day. I felt like she was a friend. I can't recommend the hotel enough, all the lovely surprises on the day (which I won't reveal) and most importantly my guests all had good things to say and enjoyed the food. It was a magical day!
Cinzia Gismondi, September 2018